So, it's been some time since we had an art lesson. For those of you joining the party late, you'll find links to the earlier lessons below. These are only meant to share with you the delight of discovery that I experience as I drag my dumb ass through the great museums of the world. Today, we turn to the first time to religious themes in painting.
Keep in mind, up until the 16th century, almost all art depicted either history or religious events, largely because the funding for art came from royalty or the church. Therefore, for aritists to stretch their muscles, as far as subject matter, they had to do it either in the context of religious/historical events, or depictions of myth. Thus, we find the same subjects explored over and over again, by many, many different artists. Walk through any art museum and you'll see a multitude of Madonnas and Childs, Adoration of the Magis, the Assumption of Mary (which I'm not clear on, but from looking at the paintings, I think it has to do with Mary going, "Well, with the wings and halo and bits, I assume you're a fucking angel." but we shall cover that in a different lesson.) No, today I want to talk about young girls getting head.
I was wandering through the Chicago Insttute of Art one day last year, when I happened onto this painting the Dutchman Jan Sanders van Hemessen, tucked away among the Madonnas and Crucifixions:


BECAUSE GIRL POWER RULES, MOTHERFUCKER! – Van Hemessen 1600s
The actual title is Judith with the Head of Holfernes. Now, Judy is clearly A)naked B)not particularly shy about it C)in possession of some upper body strength, and D)sporting a crashing big sword. But look just behind Jude's left butt cheek. Oh yes, the big and more than somewhat detached head of a bearded guy. I was intrigued.(Yes, it appears that Judith has missed a few days at the gym, but later I would find out that she was 19 at the time, so I think the weight can be attributed to "freshman spread", which a lot of girls go through in their first year of college. She'll lose the weight when she stops living off beer and ramen noodles.)
So I walked on, and in the next wing I happened onto this painting from 1663, by Feice Ficherelli, also called, Judith with the head of Holfernes:


MUM, SEEMS YOU"VE DROPPED SOMETHING
This is my favorite Judith painting, because Judith is clearly saying, "What head?" After that, I had to go look up what was up with Judy…
Turns out that the story of Judith comes from the Book of Macabees, which is one of the Apocrapha, or what most refer to as the Bogus Books of the Bible. Seems that Jerusalem was under siege by the Babylonian king Nebuchadnezzar, and the city was just about to surrender, when a beautiful young widow, Judith, said, "Wait a second. Let me go to the general's camp and see what I can talk him into." She was accompanied by her maidservant, who you see in a lot of the paintings. Long story short, Judy chatted up the General (Holfernes), had dinner with him, got hims all fired up, then sawed his head off. Her deed done, she had her maid stuff the head in a bag (I'm not kidding, she didn't even get dressed. Just, "Grab the head, Midred, we are outta here.") In the morning, the Babylonian army was all, "Oh, these Jewish babes are fucking crazy. We gone."
Here's Ruben's take on it.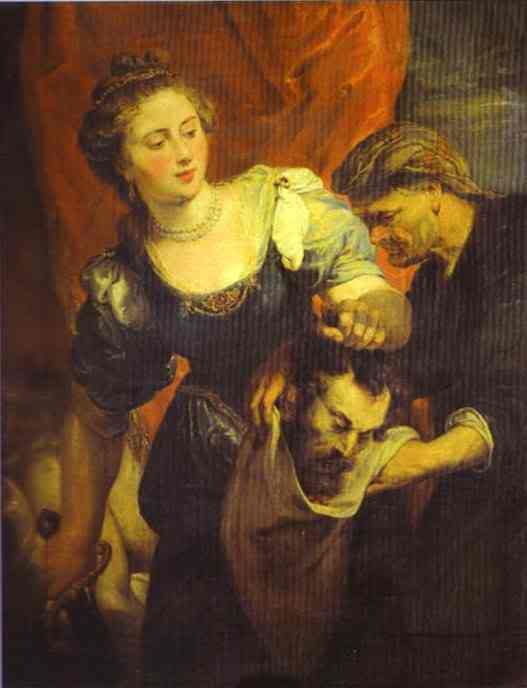 THERE. THAT WILL DO QUITE NICELY. CAREFUL, THE CARPET IS NEW
Here Sirani shows how a couple of kids from the neighborhood have stopped by to help.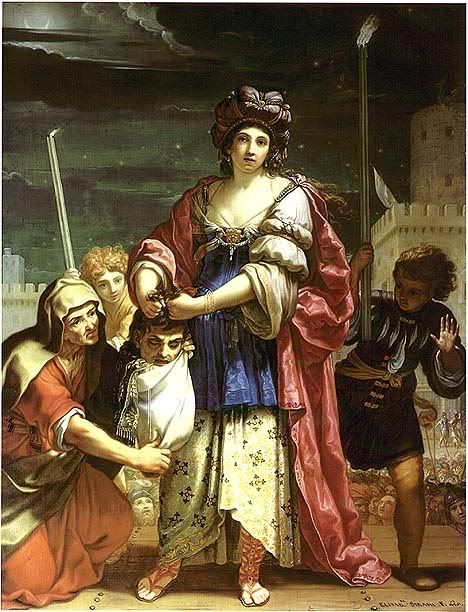 CAN WE HIT IT WITH A STICK, JUDY, PLEASE! IT WILL BE EVER SO MUCH FUN.
(note how Judith seems, well, a little detached from her task of bagging the head)
Once you learn the story of Judy and the head, they start coming out of the woodwork at you. Of all the bible stories, why this one, I wonder? It's about the innate danger of cute girls, isn't it? Or is it? Hmmm…
These next two are my nominees for cutest Judys:
This one by the Florentine painter, Carravaggio, who was so violent, the Knights of Malta threw him off their island after he painted (yes) The Beheading of John the Baptist, in their chapel. Carravaggio didn't draw anything. He painted the figures right on the canvas (or wall). And he uses Italian working people as his models. Judy here appears in other paintings as the Virgin Mary and Mary Magdalene. (Only not sawing anyone's head off).


LIKE THIS? YOU THINK? OKAY, A LITTLE TO THE LEFT…
This cute Judy has the best outfit ever. by Cristofano Allori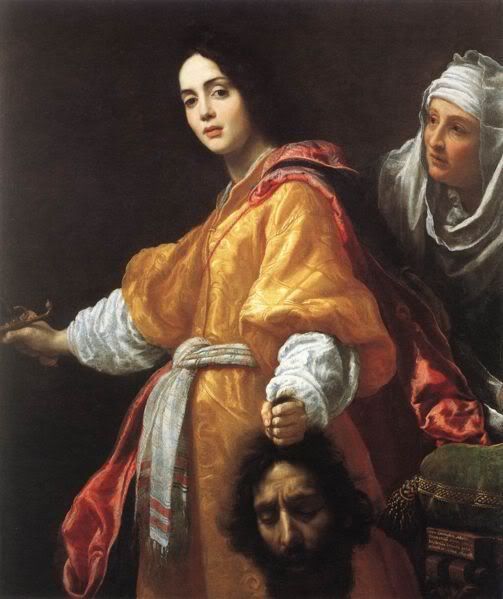 HE LOOKED SURPRISED. DON'T YOU THINK HE LOOKED SURPRISED?
Best hat for head-chopping: By Cranach:

I'M SHY, REALLY. THIS IS MY FIRST HEAD CHOPPING. DO YOU LIKE MY HAT?
This one is actually Salome, which is another great Jewish girl getting head story. Also by Crachach, who loved him some hats: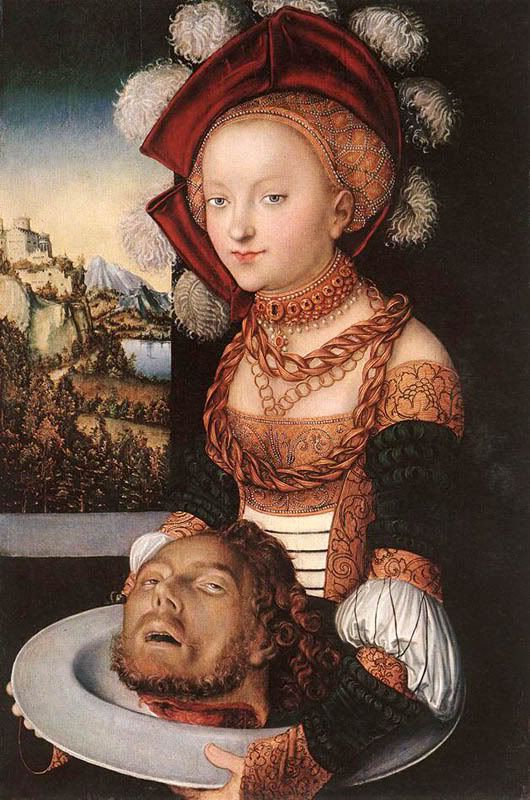 NO, HE'S JUST SLEEPING. LITTLE DROWSY MAYBE. BUT CHECK OUT THIS HAT!
Then there's just naked Judys. This one's by Hans Baldwin:

THAT'S RIGHT, I'M NAKED, SHAVED, AND I'M CARRYING A SEVERED HEAD. YOU GOT A PROBLEM WITH THAT?
These are the Sneaky Judys. You know, just trying to get it done and quietly and get home: This one is painted by a 17th century Florentine woman,(extraordinary for the time) Artemisia.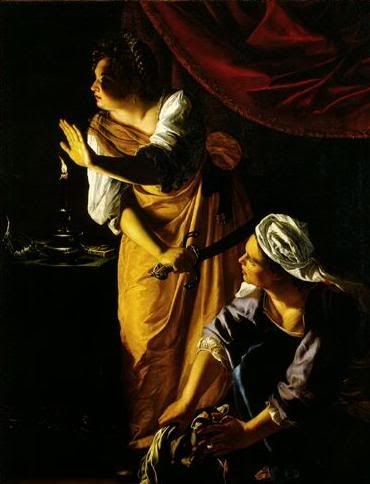 WHERE DID YOU PUT MY FUCKING CAR KEYS? LOOK UNDER THE HEAD.
also by Artemisia (I get the feeling she may have been sending a message about standing in her way as a painter)

ANOTHER ONE IS COMING. OKAY, MAKE ROOM IN THE BASKET. I'M GOING TO SHOW HIM MY BOOBS TO STARTLE HIM, THEN START CHOPPING..
Here Artemisia stops being coy and gets down to it: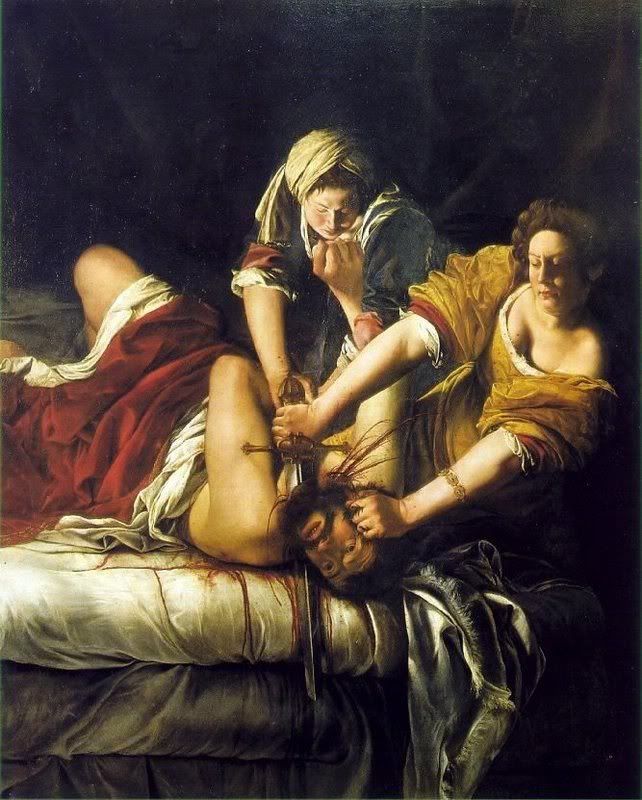 HOLD STILL MOTHERFUCKER! BLANCH, WHAT'D YOU SHARPEN THIS KNIFE WITH, A MONKEY'S BUTT?
Here she paints it again. It's like, "Look, I like the way this story ends. Don't fuck with me."

NO, I DEFINITELY LIKE IT BETTER WITH THE PURPLE DRESS, DON'T YOU? I SAID HOLD STILL!
I think Artemesia would have liked this Judith by Giorgione:

'KAY, TELL ME AGAIN HOW THIS DRESS MAKES MY ASS LOOK BIG? GO AHEAD.
Here Dijk Maruitshuis has a Judith who is clearly explaining what just happened.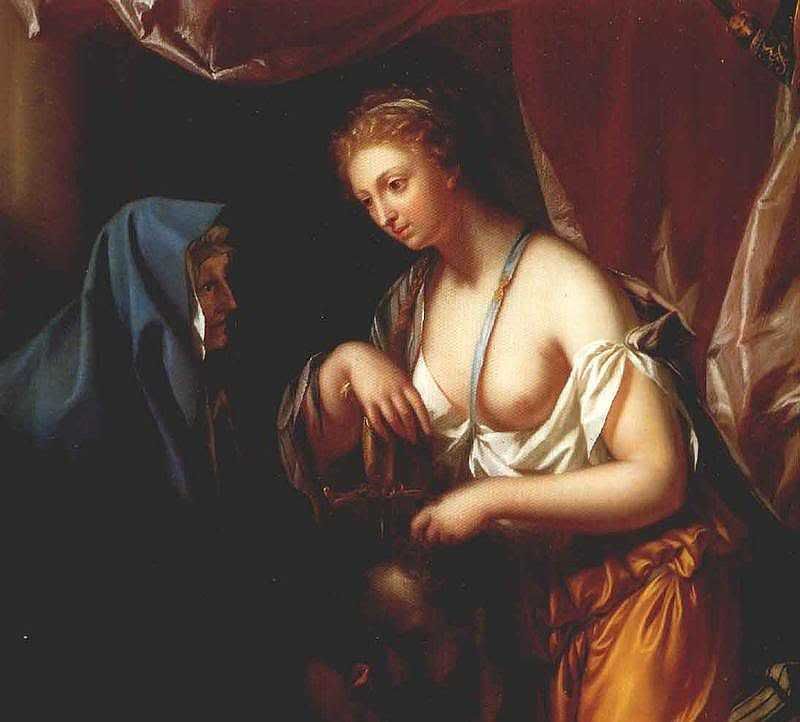 NO, DUDE, IT WAS SO WEIRD, MY TOP SLIPPED AND HIS HEAD FELL OFF YEAH, FELL RIGHT THE FUCK OFF. GUESS HE HAD A SERIOUS BOOB ALLERGY– LOOK FOR A MEDIC ALERT BRACELET OR AN INHALER OR SOMETHING.
Here's a very coy Judy by Vincent Sellaer, a Flemish painter:


NO, IT'S NOT MINE. OH, THE SWORD? UH, I WAS GOING TO MAKE SOME STIR FRIED VEGGIES OH MY, I MUST HAVE DROPPED MY APRON!
And finally, the sexiest Judith, by Gustave Kiimt, around the turn of the 20th century, one of the few Art Nouveu painters (we'll talk about that another time)I looked at prints of this painting for years, thinking it was someone that Kilmt must have known, since he used the model for other paintings. It was only after I learned about Judy's Head that I saw the head in the picture. (lower right corner, duh)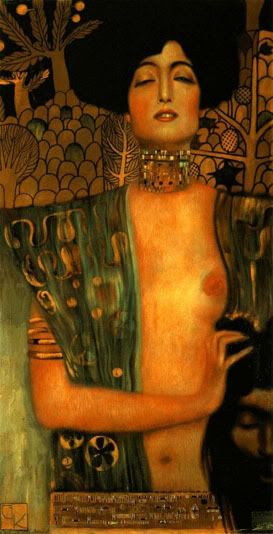 SHAGGED IT OFF HIM. WHY? YOU BUSY?
So, that's the art history of Judith and Holfernes. Maybe I'll do the story of the only biblical girl to get more head than Judith, Salome, when I get some time. Meanwhile, here are the links to the earlier lessons in art:
http://bbs.chrismoore.com/viewtopic.php?t=4301
http://bbs.chrismoore.com/viewtopic.php?t=4313
http://bbs.chrismoore.com/viewtopic.php?t=4319
COMMENTS: http://bbs.chrismoore.com/viewtopic.php?p=194327#194327