Wow, I just got an invitation to come to Camp Obama here in California?
(Link Disabled)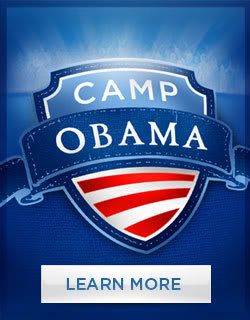 (Link Disabled)
Well, I got some pages done today, but I didn't really expect to get much done before the end of the month, what with the Democratic Convention in Denver and the threat of world-ending nuclear war in Poland, so why not go to camp.
Imagine us, all of us Obamamaniacs, out by Lake Barrack…
Itinerary: Camp Obama
8:00-9:00  Non denominational prayer breakfast — secret Muslims not allowed.  (You CAN be Muslim, but you have to be "out". )
9:00_10:00 Group Hope by the dock (followed by the "HOPE TEST" — no one will be allowed to leave until they have sunk a three-point shot in front of a crowd. Hook shots from the top of the key will also qualify, but only if there are no perspiration stains on the shooter's underarms.)
10:00-11:00 Bowling instruction by Billy Ray Jones Johnson. (Can you look cool in rented shoes?   Oh yeah, I think you can. Billy Ray teaches you how.)
11:00-Noon Intramural three-legged race: Empowering the Team Player in You.
Cougars vs. PUMAs (Your partner not pulling her weight? Don't forget to tell her she's pretty.)
Noon-1:00 Lunch with Keynote:  "How to not scream, "But he's so fucking old! Human life means nothing to him! He loves war! He'll get us all killed!"   We don't roll that way at Camp Obama and you won't roll out of here like that either.  You will learn how to participate in a measured and civilized debate of just how fucking old and War-crazed he is.
1:00-2:00 HOPE FLOAT AT THE LAKE
The seminar will be given in a flotilla of canoes lashed together.  Participants will learn:
1)Where they live.
2)How many houses they have. (We have to know this stuff, evidently. People will ask.)
3)Why the only reason that volunteers are not being paid $5 million dollars a year is so they don't have to worry about that camel through the eye of a needle parable.  (Secret Muslims and Jews, ask your Christian Brothers. Catholics, ask your priest – psssst, New Testament.)
4)Why, out of respect for Native American cultures, there is no Camp Obama team called the Hopi.  (But why it would totally rule if we could get them on board.)
5)And finally, use of Hope in the application of basic lifesaving skills, and how much more effective the former is when combined with the latter.
2:00-3:00 – Crafts! Basket-weaving, lanyard-making, pottery throwing, and guided meditation: The Hope Against Audacity: Participants will learn how to keep from loosing their mind when confronted with the following audacious precepts:
A)Human life is sacred in the womb, but not in a house in Iraq or New Orleans.
B)Everything should be left to the wisdom of the Market, except for no-bid military contracts and Medicare drug programs.
C)The definition of victory is never ending the game.
D)Knowing what arugula is makes you an intellectual snob.
E)Spending time in a prison camp thirty eight years ago gives you special super powers.
F)Spending money you don't have is somehow different and better than just paying your bills as you go. (Because that's worked so well on everyone's credit cards and mortgages.)
Participants will also learn how to weave "Obama-Mama" into their lanyard or basket gifts for their mothers.
3:00-4:00 — CHOOSE YOUR OWN ADVENTURE. YOU GUYS PICK THE CAMP OBAMA ACTIVITY FOR 3:00-4:00 o'clock and put it in the comments.  (Stay in the spirit of things. No Hannity/Limbaugh talking points. I am, after all, firmly, in the Obama-Rama. Although, any activity that involves keeping Joe Biden from saying patently stupid shit will be appreciated.)