So, I visited The Pantheon, which is the place where France keeps many of it's famous dead guys. It cost like $12 to get in, so I was really hoping for a cool animatronic display of famous dead guys, with maybe Jules Verne driving Captain Nemo's Nautilus and Marie Antoinette getting guillotined every quarter hour or so. But no, all of the famous dead people in the Pantheon are inside of boxes or jars or both.

Here is the philosopher, Jean Jacques Rousseau, who explored the ideas of inalienable human rights, as well as inventing the aqua-lung and piloting the Calypso around the world on scuba adventures with his sons Jean Michele and Philippe.
Yes, France's greatest philosopher (Who beat  out 2nd ranked Reneé Descarte, who said, "I think, therefore I am."  with his famous rebuttal, "Am what?"  In his paper, "My Response to that Douche-bag Descartes."). Each person is rated by the number of sad faces on their box, as compiled from an online pole. We can see that Rousseau has received 13 faces. We can only guess how many sad faces he might have gotten if they'd put him in here driving the Nautilus, but as a consolation, anyone in the Pantheon receiving more than ten sad faces gets a hot tub and a pool table in his box. (Not quite a cool private submarine, though, are they?)
Still, no matter how many famous dead guys in boxes you have, it doesn't seem worth $12. But they're like, "Monsieur, regard: We have not only dead guys, we haveFocault's Pendulum."
Basically, knowing that people were going to claim total "ripoff", unless they had more stuff in the Pantheon, Foucault installed the pendulum as a machine to prove that the Earth was actually rotating. (Sure, there was other evidence for this, like the sun rise and the fact that the continents weren't all smashing into each other, but hardly anything as mind-numbingly boring as "the pendulum."
I know. Oooooooo–ahhhhhhhhhhh. Like you need that to fill a ginormous building so you can put your best and brightest in the basement. It's like renting the Superdome so you'll have a place for your hamster to run.
But they sensed there was a problem, so they added this element of suspense. Right outside of the radius of the pendulum, is a bronze cat. Now, if the Earth ever tumbles off it's axis, anyone at the Parthenon will get the total spectacle of a bronze cat being smacked in the side of the head with a brass ball. (BASEMENT CAT IS CRUEL, LOLZ!) Oh, I can't wait. I can't wait. It's like watching paint dry, but without the fun of the low grade buzz from toxic fumes.
Turns out that the Pantheon was already re-purposed for storage, because it used to be the church of St. Genevieve, who is the patron Saint of Paris because she comforted everyone after Attila the Hun raped and pillaged them in 451 A.D. There is still some evidence that it was a church, like this mosaic on the ceiling depicting "The Suspicion that Jesus Might be High."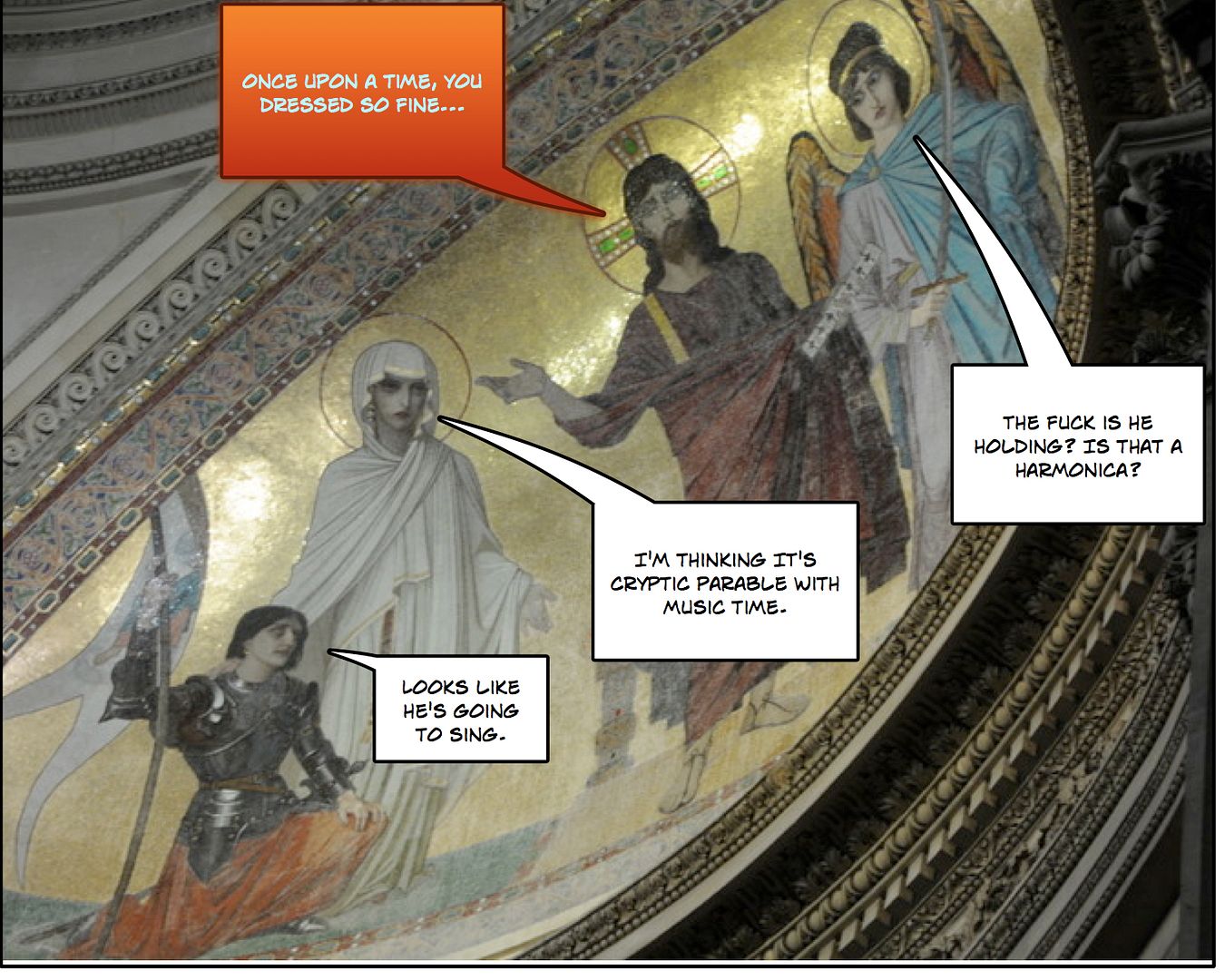 Next time we'll explore some of the elements of French culture as depicted in art, like what they used to give out awards for before guys rode all over the country on bicycles for the honor of wearing a yellow spandex jersey.


1927 French National Naked Ping Pong Champion,
Sophie "I own you bitches!" Calaise
Abientot, my lubricious pomme de terres. Abientot!